Unfortunately the Friday Night Social event has been suspended until further notice due to COVID-19, as announced in this news item.
We look forward to returning to normal as soon as possible.
Friday Night Social at the Flagstaff Hill Golf Club is the place to be to unwind at the end of the week, with a lively atmosphere, food to enjoy and chances to win prizes.
Everyone is welcome - you don't have to be a member.
Friday Night Dining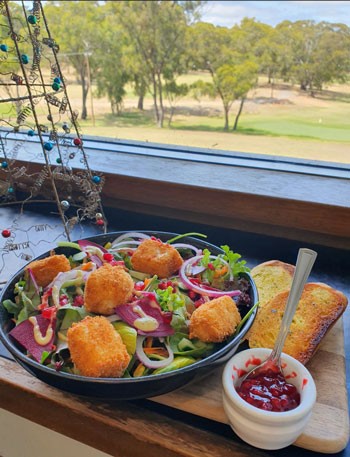 Friday night our talented kitchen team offer a range of tasty yet surprisingly affordable meals. View the Friday Night menu here, plus there is an in-house Specials Menu that changes week to week.
Member Draw
Members also enjoy the opportunity to win the Member Draw valued up to $1000. So why not join as a Social Member for as little as $90 which includes a $75 bar credit, plus a $5 bonus for every $100 added to your bar wallet.
The Member Cash Draw displays live on TV screen in the bar. The prize jackpots each week until won, up to $1000, thanks to James Leo of Ray White Real Estate Flagstaff Hill
The most recent results displayed below.
Chase The Ace
Now we have a new reason to be there!
A $5 Raffle ticket gets you into three Chase the Ace draws, plus the Community Raffle. Win meals and drink vouchers or one of the range of fabulous prizes! If there are no Chase the Ace winners, the prize jackpots to $1,000
The most recent results displayed below.
Member Draw and Chase The Ace Results - click to enlarge:
Click on a sponsor to visit their page: